Today is the Time for Diversity Equity and Inclusion 
The world is awakening; people from every walk of life are taking responsibility to create a better tomorrow for all.  COVID-19 caused a great pause; compelling us to see the chasm of inequity and demand social justice.  We serve as your guide for individual, organizational and systemic change. From providing Organizational strategy and DEI diagnostics, to solution development and execution maps or serving as your interim Chief People Officer, we are here to help.
Chief People Officer and Strategist
We provide expansive services to help organizations strengthen DEI. From an initial audit process, strategy design through the program implementation and evaluation. We also facilitate on-going education and development as an adhoc member of your executive team. Interim and retainer options available.
Courageous Conversations
Authentic conversations build trust, spark opportunities, yet, fear often holds us back. Explore how to build awareness, create allyships and cultivate workplace equality to discussing inclusion and how to take action for a healthy workplace.  Now is the time for listening deeply and learning.
Women in Leadership Accelerators
The Women in Leadership Accelerator helps women define goals, learn how to maximize talents and build skills to create impact.  It also invites men to participate as learners, mentors and sponsors. Organizations build inclusive cultures when values are consistently demonstrated.
 Email to schedule your free 30 min. consultation.
Living Our Values Everyday – L.O.V.E. Leadership Programs
Success Coaching
Team Development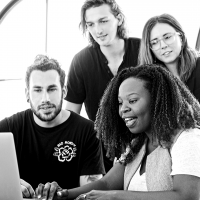 Retreats & Workshops
Today's leaders are deepening self-awareness to build pathways for growth and systemic change.  Our values-based approach integrates  data rich feedback mechanisms with an intuitive approach to create customized coaching programs for conscious leadership.
Boost organizational effectiveness with educational activities and team building experiences. We provide expert facilitation to unlock potential, find common ground and tackle important topics including: gender and racial equity along with allyship.
We provide customized  1/2- 2 day sessions designed for strategic planning, energy mastery and high-impact results. Stepping away from daily responsibilities allows teams time and space to breakthrough barriers, innovate and engage organizational genius.